Starting from:

NAf. 50,995.00

Incl. OB
Versions:

Comfortline, Highline

Motor:

1.0 TSI

Transmission:

Automatic

Horsepower:

116

Safety

5 stars in Latin Ncap
Some aspects of life shouldn't be overanalyzed. They just are, and they always will be. We're all born as individuals, but as we mature, we tend to become more like everyone else. Yet, here you are, still genuine and true, without even trying. In a league of your own.
What would you like to do?
Choose from the following next steps or continue scrolling to explore the Nivus.
The

Nivus

is available in the following colors:
With 10 inches, the VW Play is the most modern multimedia center that can exist in a car.
Design and Internal Space
Surprise yourself with the innovative design of Nivus and with the space and comfort it offers. The trunk capacity is up to 415 liters and the air-conditioning vents for the rear seats stand out.
Nivus is an example to follow in terms of security. It has fatigue sensor, ACC, city emergency brake, electronic stability control, post collision brake, 6 airbags, rain sensor, tire pressure sensor, Isofix® and top-tether® system, hill start assistant and much more.
Nivus offers an incredible experience every time you drive it. 200TSI engine, 6-speed automatic gearbox, park pilot, reverse camera among others make it pleasant.
Technology and connectivity 

With VW Play, Volkswagen Nivus introduces a new era in connectivity, streaming and in-vehicle services. 
With an unprecedented technology platform capable of reading practically all formats, gathering information from the vehicle, the sound system, connectivity and the VW Play Apps, an exclusive application store.
Entertainment, navigation and vehicle data according to your configuration. 

The 10 "digital panel allows you to choose the screens you want to view such as the on-board computer, infotainment, telephone and vehicle data. In addition, you can personalize the information in the way you like the most.
Driver assistance and safety 

The Nivus is produced from the modern MQB platform and has the best technology to provide safety and comfort. 
Adaptive speed control remotely 
Remote adaptive cruise control helps maintain driver-programmed speed and distance of the vehicle ahead, activating the accelerator and brake according to traffic. It also acts in extreme situations with the city emergency brake that automatically applies the brakes to avoid frontal collisions up to 50km / h.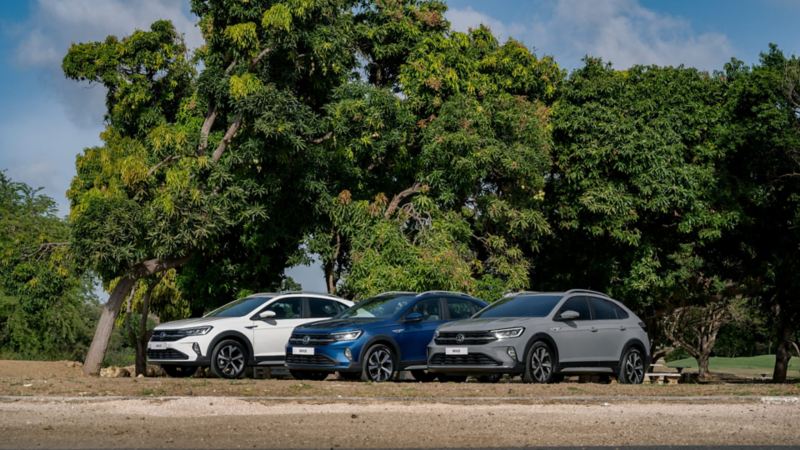 Front and rear parking sensors with emergency braking.

Parking sensors facilitate your maneuvers with audible alerts and remote projection of obstacles on the radio screen, and in the event of an imminent collision detection, emergency braking is activated automatically. This function works in forward and reverse maneuvers between 1.5 and 10km / h.
The whole in perfect harmony

Nivus has an automatic transmission that offers all the comfort and practicality to make your trip more pleasant.